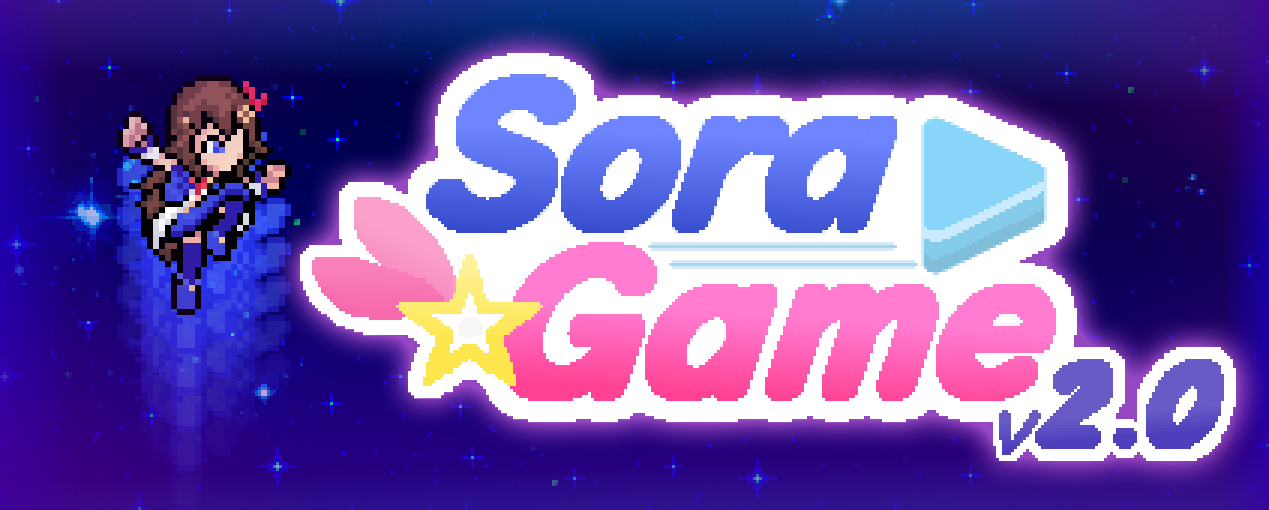 Sora Game 2.0
Comments
Log in with itch.io to leave a comment.
i dont know why but i cant play korone special :c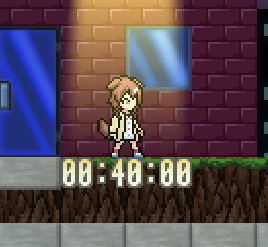 Holy shit, Korone's special stage unlock has had so many bugs so far. I'll put out a patch in a bit, I'm gonna take a look at it.
Turns out I didn't fully patch the old unlock time to make it the current one. Should be fixed now, if you redownload it.
It's a hard game but also a fun game. I Saw this game released a 2.0 version. So I try to install the game but I couldn't install it bc of the unknown error. what should I do?
Are you on windows? If you're talking about the popup that says it 'prevented an unrecognized app from running,' you can click 'more info' and then a run anyways button shows up
I was gonna write a I were can't download it that day but I did download today. wat. anyway, thank you for releasing a good game.
Sora Game 2.0 is a REAL SEQUEL of Sora Game
A-Chan's Standing Animation look like super hero😊 (in future update Make Harusaki Nodoka too)

Kiara Stage is a Goddamn Miko The Sequel I called
M*T*ER A** F**KING Goddamn Kiara
Stage
Time
Difficulty
Title/Notes
M*T*ER A** F**KING Goddamn Kiara
18:02.03
[REDACTED]
Goddamn Miko The Sequel
NuiNui Quest
(Collaboration Stage)
1:55.23
Easiest
Good Collaboration but
Poor Pekora

Korone Special
7:00.22
Hard
Objective Stage
Luna
9:33:11
[REDACTED]
Spinning Candy everywhere
Marine
0:45:08
Easiest
Short Stage same as Roboco Stage
I have a problem with Korone Special Stage
Why do I have to go through the targets in order?
Kiara's stage shouldn't be too hard if you memorize the fire cycles

Anyways, for Doggy God, I decided to make the listeners go in a specific order so there's no randomness, meaning the player can figure out the fastest way to serve each of them. I thought it would lend itself to the speedrunny nature of this game if I gave specific targets.

I hope you enjoyed!
This game EZ by Heath Bar
I Beat them all (Less than 10 min each stage) except Gura and
DOUBLE GODDAMN M*T*ER F**KING PEKOMIKO
Playtime: 2 hrs
Record in: 22.08.18
| | | | |
| --- | --- | --- | --- |
| Stage | Time | Difficulty | Title/Notes |
| Goddamn Miko | 8:32.41 | [REDACTED] | [REDACTED] |
| Calli | 6:03.40 | Normal | Real Deadbeats |
| Roboco | 0:55.51 | Easiest | Short Stage |
| Lamy | 9:09:11 | Hardest | Drunking Sora |
| Suisei | 4:22.51 | Normal | Sora-Spin |
| Moona | 5:09.40 | Normal | Go to the top |
| Korone | 2:27.12 | Easy | Bat Troll |
| Goddamn Pekora | 7:15.22 | [REDACTED] | [REDACTED] |
| HoloX | 3:55.45 | Easy | 5 in 1 |
It's so interesting seeing how DRASTICALLY different everyone's opinions on each stage's relative difficulty is! This might actually be one of the bigger hot takes I've seen about that...

Anyways, I hope you enjoyed! A bigger update and a discord's coming soon, so stay tuned!
Really cool game!
I love the sprites, the little voice clips and the music appropriate for each talent stage.
I wish I was better at this kind of precision platformer though as I couldn't clear a single stage I tried (save for the tutorial XD)
Keep up the good work!
Honestly addicted to this game, cant wait to see what you have in store!
My PB on Korone's challenge:

Previous records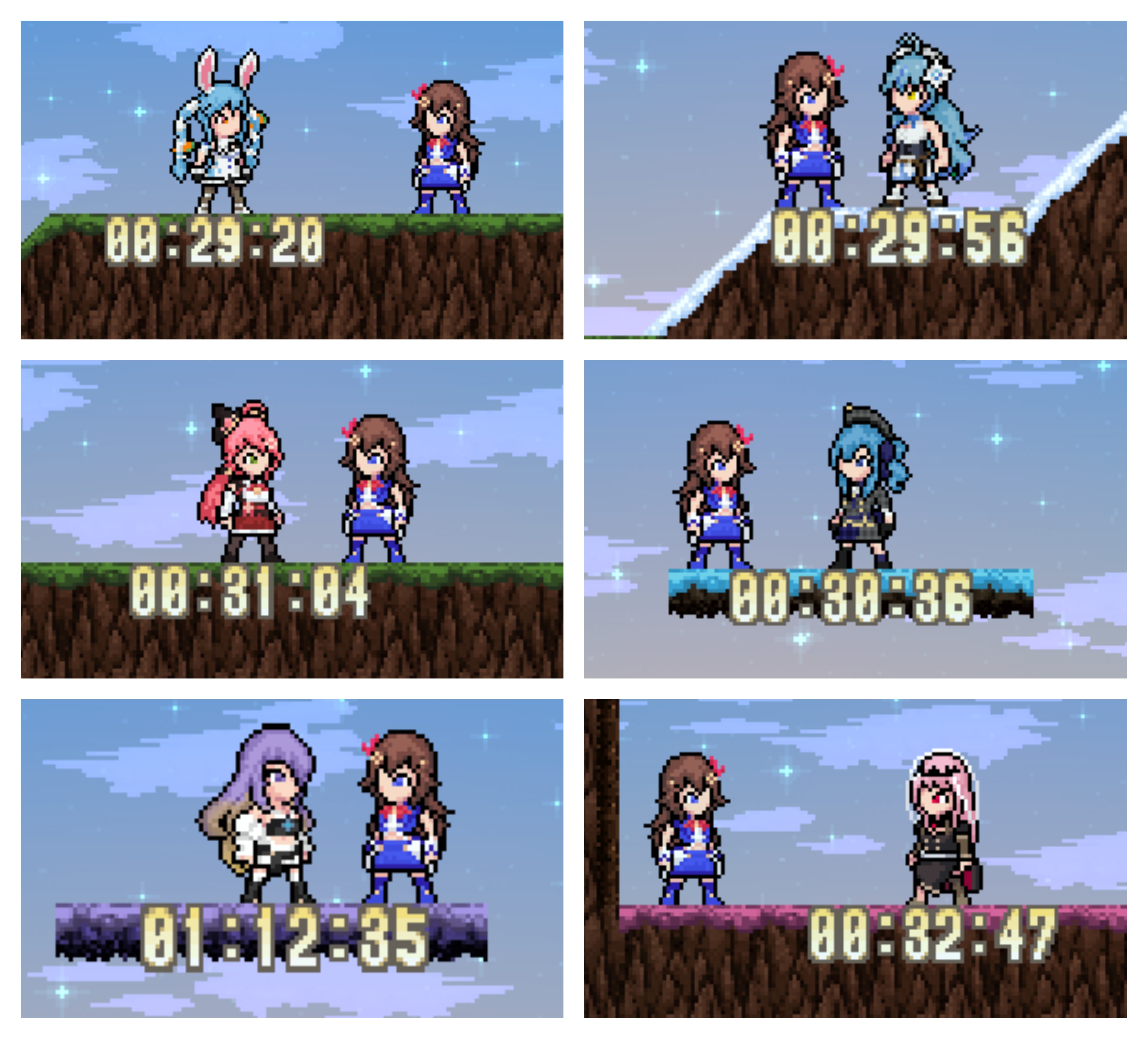 31 sec in Miko is ez to beat. 32 sec on Calli's only with TAS, HOOWW?????????'
Not really, got hit by a completely avoidable scythe and didn't get the skip on the jump post first scythe and still got a 31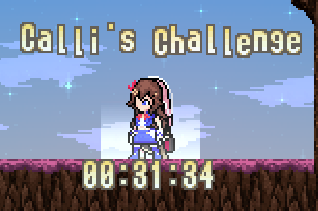 i think this is my best score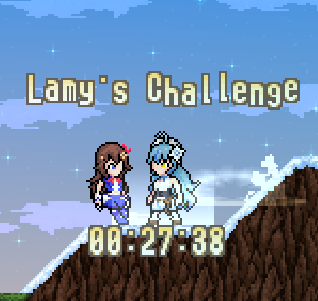 I can definetely see where you can save that time but actually doing it when the slippery floor is so unstable, Dayum Son
But then i notice that this game have a update 10 days ago XD (use the earliest version last night) so i ll play again today
It's good right now but I think if gamer can turn in the air will be more comfortable to control, and maybe make dash in another key, sometime I just want to move a little then it dash , it's a little annoy.

I'm very excited for the next update