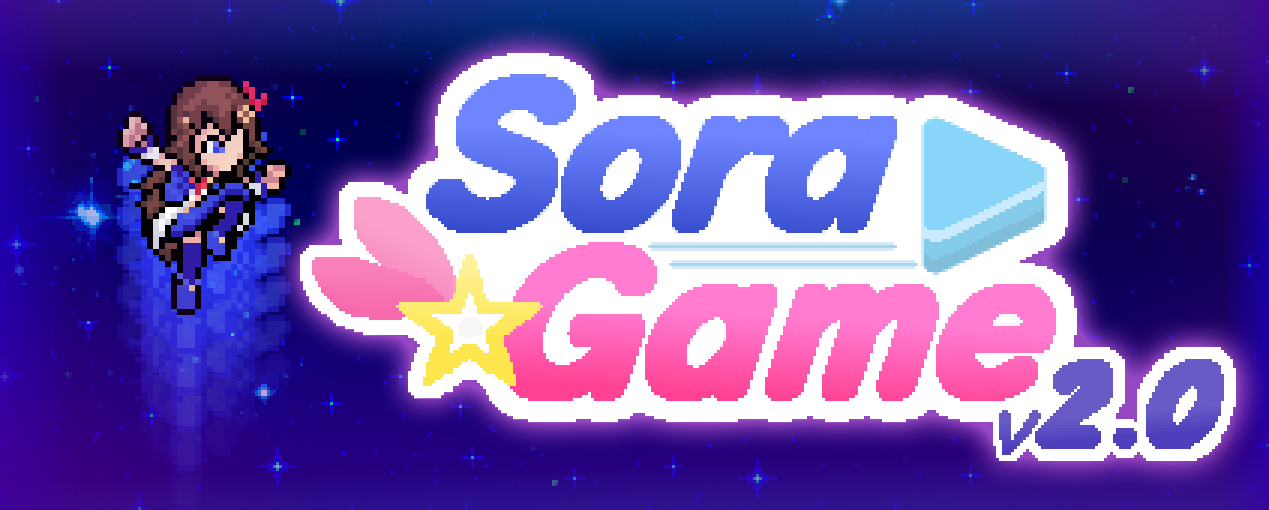 Sora Game 2.0
SORA GAME 2.0 IS RELEASED!


At last, the big content update that Gura's Challenge was meant to be part of is finally out!
Let's highlight some of the major changes!



New title screen



Kiara at KFP



Kiara's Challenge



Suspicious door...


Now in the hub you can keep track of how many stages you've beaten, and how many remain.

Speaking of the hub, the hub world has been expanded to include the city area! There you can find Kiara in front of a KFP where you can take on her burning hot challenge stage!
Alongside the new Kiara stage is a mysterious door that opens when you've collected 10 play buttons...



Luna in the forest



Luna's Challenge



Now you can find Luna in a new area of the forest to play her challenge! A deadly obstacle course of chocolate rapids, bouncy gumdrops, and strangely sharp lollipops.



Marine at the beach



The boat on the beach is no longer empty! There captain Houshou Marine awaits to test your skills!




NuiNui Quest! - https://sulpx.itch.io/nuinui-quest



Doggy God's Street


2 new special stages have been added! The first one is a collaboration with Sulpx's Flare NuiNui Quest! Take Flare's bow and arrow and speedrun your way through the falls!
The second special stage is based on Doggy God's Street! Help Korone serve all the listeners as fast as you can while speeding around the diner on roller skates!


Add a new playable character on top of all that, and that covers all the major changes Sora Game 2.0 brings with it! Have fun!